Chinese businesses have been investing in Zimbabwe in accordance with the country's laws and policies since Zimbabwe's independence, particularly in recent years in response to the mantra of "Zimbabwe is open for Business". They have made considerable contribution to Zimbabwe's economy, job creation and technological advance as they benefit from the favorable investment climate in the country. Their contribution has been helping Zimbabwe to stay connected to the global economy despite the illegal unilateral sanctions imposed by the Western nations. Their presence has made the sanctions less biting.
However, it is regrettable that some irresponsible reporters or Western medias fail to report on Chinese investments in Zimbabwe in an objective and fair manner. They slander and attack Chinese companies, which not only hurts the friendly cooperation between China and Zimbabwe, but also hurts the benefits of local people and investment climate of Zimbabwe and undermines their own reputation. The following are the recent example of false news.
False News 1:
Chinese miner "Monaf Investments" evicts Binga villagers by Newsday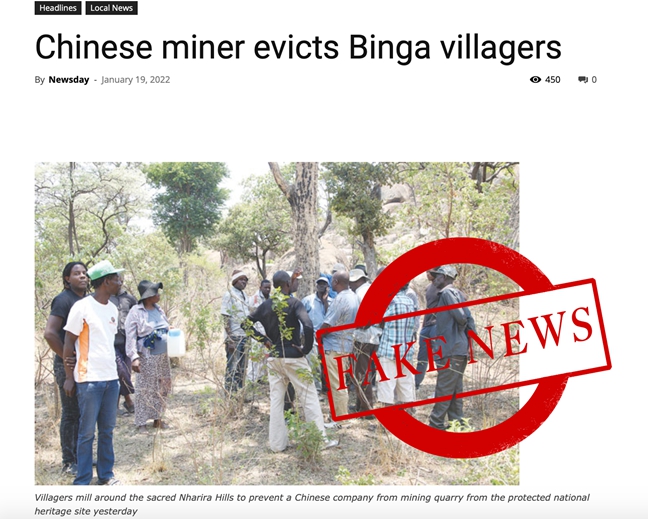 https://www.newsday.co.zw/2022/01/chinese-miner-evicts-binga-villagers/
Truth:
The truth is that the 'Monaf Investments" is NOT a Chinese Company at all. 
Relevant Statements: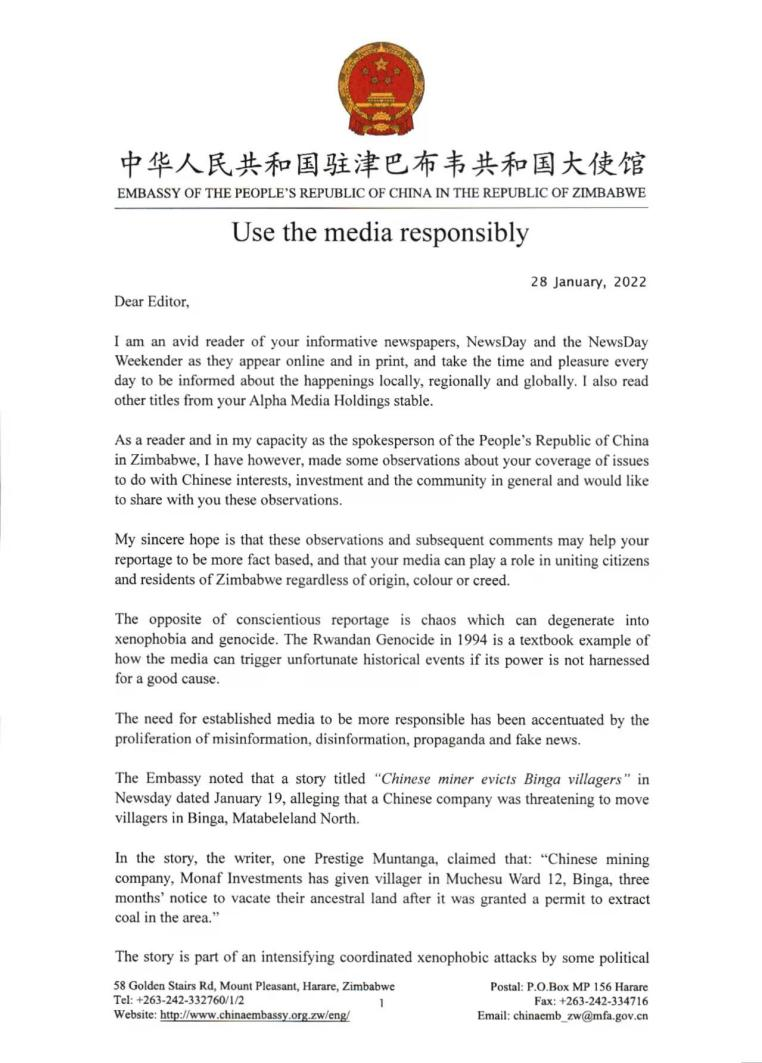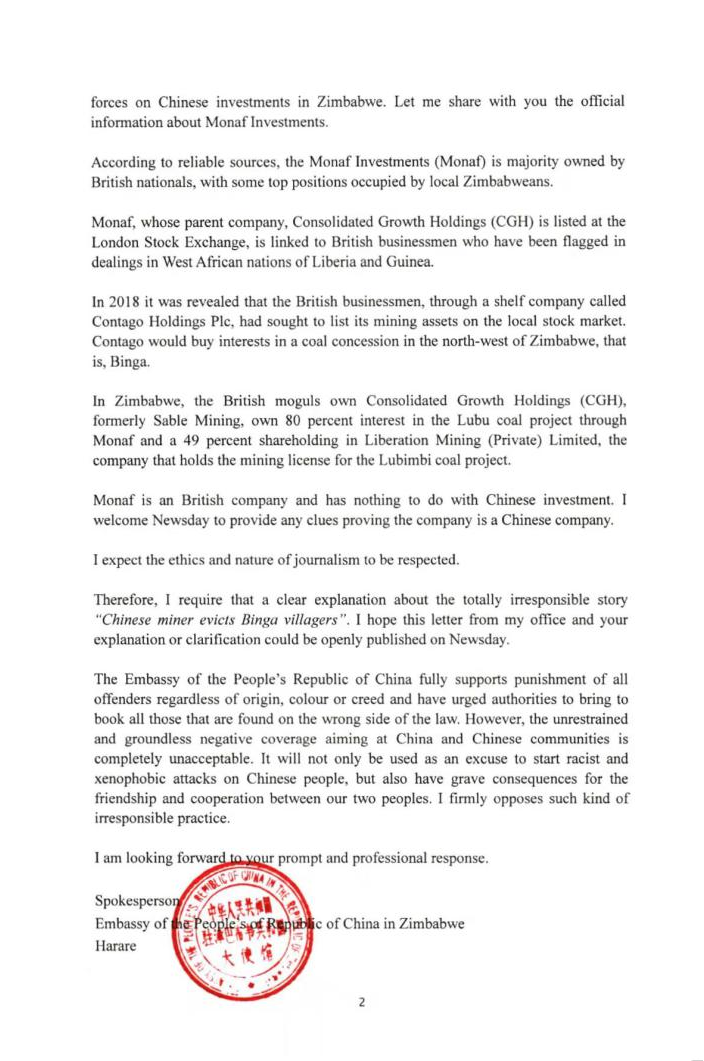 -------------------------------------------------------------------------------------------
False News 2:
'They Want To Remove Us And Take The Rock': Mutoko Villagers by the Guardian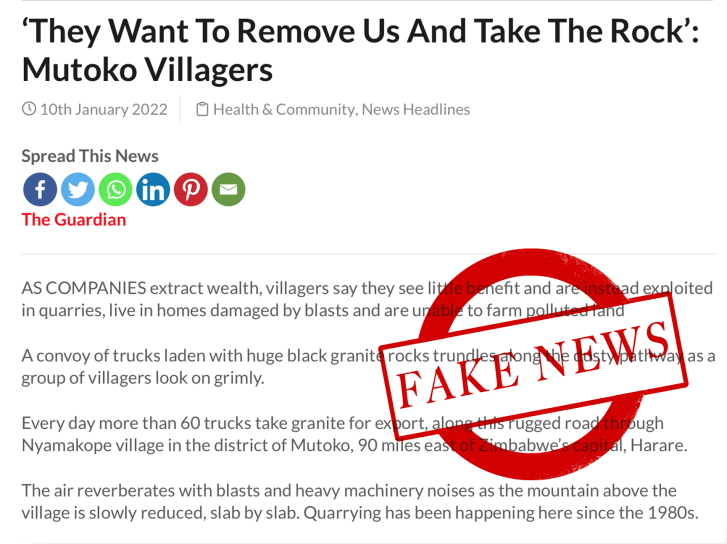 https://www.newzimbabwe.com/they-want-to-remove-us-and-take-the-rock-mutoko-villagers/
The Guardian alleged (some examples):
1. The story alleged that 50 families in Nyamakope village in Mutoko District have been told by a Chinese mining company that they will have to leave their homes and land.
2. Salison Ranjisi, an 82-year-old man, who is among the relocated families was described by The Guardian as "collapsed when he heard the news" that he would be relocated and "were given 2,500 U.S. dollars to rebuild their homes."
3. Another Chinese mining company, Shanghai Haoyun Mining Investments want to use guns to remove the villagers to take the rock.
4. The Chinese companies conducts labor malpractices including long working shifts and low pay.
Truth:
1. The mining project of Jinding only involves relocation of THREE families. Jinding has all the relocation contracts and payment proof of proper compensation for the families relocated by Jinding arising out of its mining operations. The exact amounts were determined with mutual consent to the satisfaction of the relocated families and with knowledge of the local councilor, community and representatives of villagers.
2. Salison Ranjisi, the 82-year-old man never fainted but suffered from high blood pressure after the relocation process while his new house was being built and received compensation worth 4,800 dollars and that there was no one forcing him to leave.
3. The Shanghai haoyun Mining Investments are currently undertaking exploration works required before the commencement of mining operations which does not involve villagers moving at all. The local councilor for Ward 10 in Zisengwe-Nemagunde village, Mutoko District, said no family in his ward has been relocated by Shanghai Haoyun, "In case there is any family which is to be displaced, we will sit down and talk, and the families will be compensated accordingly and justly," and "the procedures of relocating local people will be fair".
4. The local workers worked eight hours a day and the salary is good. With the coming of Chinese investors who brought jobs, workers can see that our lives are changing. The Chinese mining companies have also benefited local communities through their skills transfer initiatives. Many people can now fend for their families. With more Chinese mining companies moving into the area, the livelihoods of the villagers will greatly improve. 
Relevant Statements: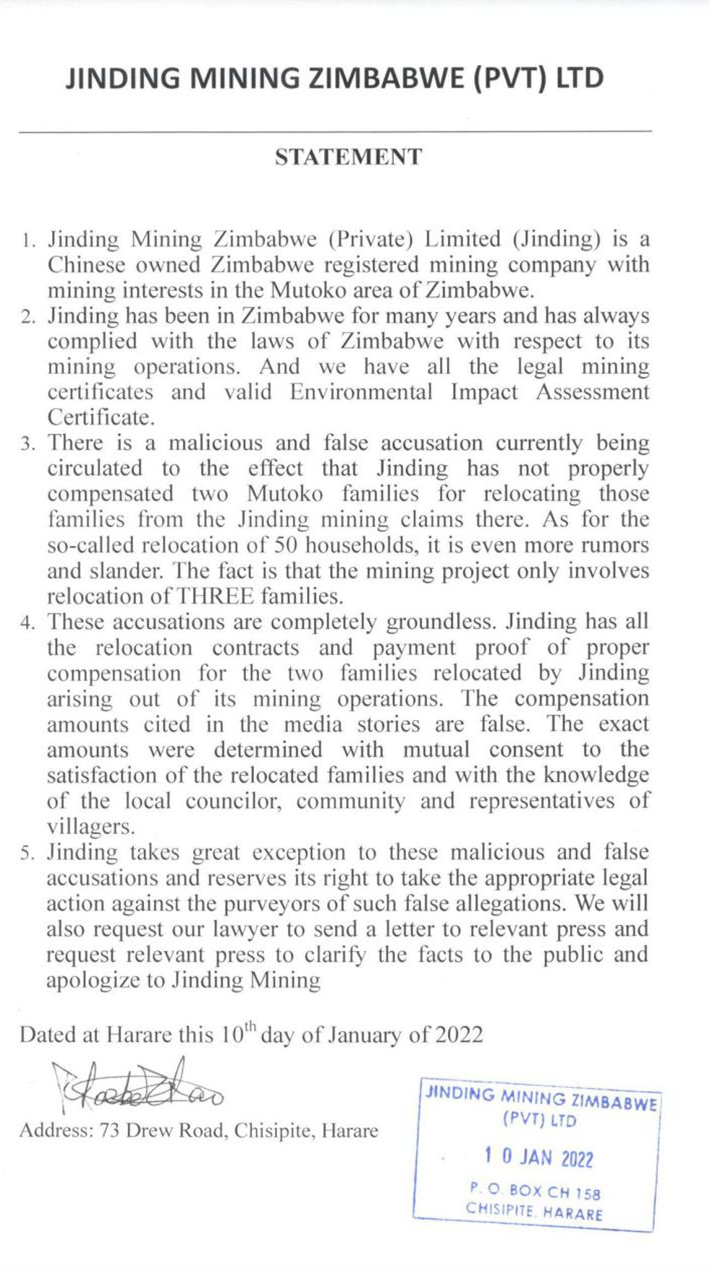 Investigative Report:
Investigation by Xinhua News Agencydebunks defamation story aboutChinese mining investment in Zimbabwe.
https://www.youtube.com/watch?v=5wUgC9ockas&ab_channel=NewChinaTV
https://twitter.com/zbctv/status/1489826896586186755?s=21
-------------------------------------------------------------------------------------------
False News 3:
Chief Chivero was beaten up in that factory (Sunny Yi Feng) – by letislator Mliswa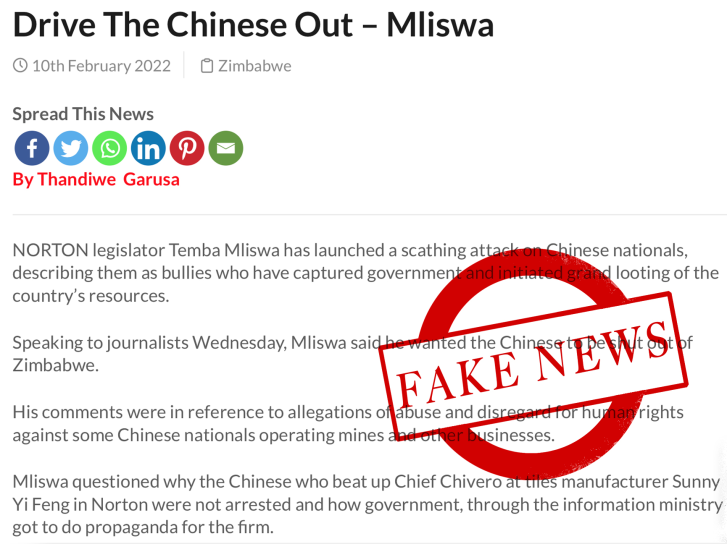 https://www.newzimbabwe.com/drive-the-chinese-out-mliswa/

NORTON legislator Temba Mliswa alleged "a Chief was beaten up, Chief Chivero was beaten up in that factory (Sunny Yi Feng)".
Truth:
In July 2019, not having made an appointment in advance or communicating in any way with Sunni Yi Feng about his intention and purpose of visit, Chivero chief arrived at Sunni Yi Feng and tried to force his way into the production area. In order to maintain the safety of the company, the Chinese staff member on duty on that day asked the visitors about the purpose for their visit and whether they had an appointment and requested them to show their personal IDs for visitor registration in accordance with company regulations. However, the chief refused to show his ID or state his personal identity and purpose of visit. Without any provocation, he raised his hand and slapped the Chinese employee. The Chinese employee kept his restraint, did not respond to his attack, and continued to try to perform his duty. However, the chief lied that the Chinese employee hit him first. In this incident, the Chinese employee was the one who was hit and the assailant was the chief. However, in the spirit of maintaining good relations with local residents as much as possible and fully respecting local traditional leaders, we reached out to the chief afterwards for better communication and gave our forgiveness to the assailant. Since then both parties have maintained good relations.
Relevant Statements: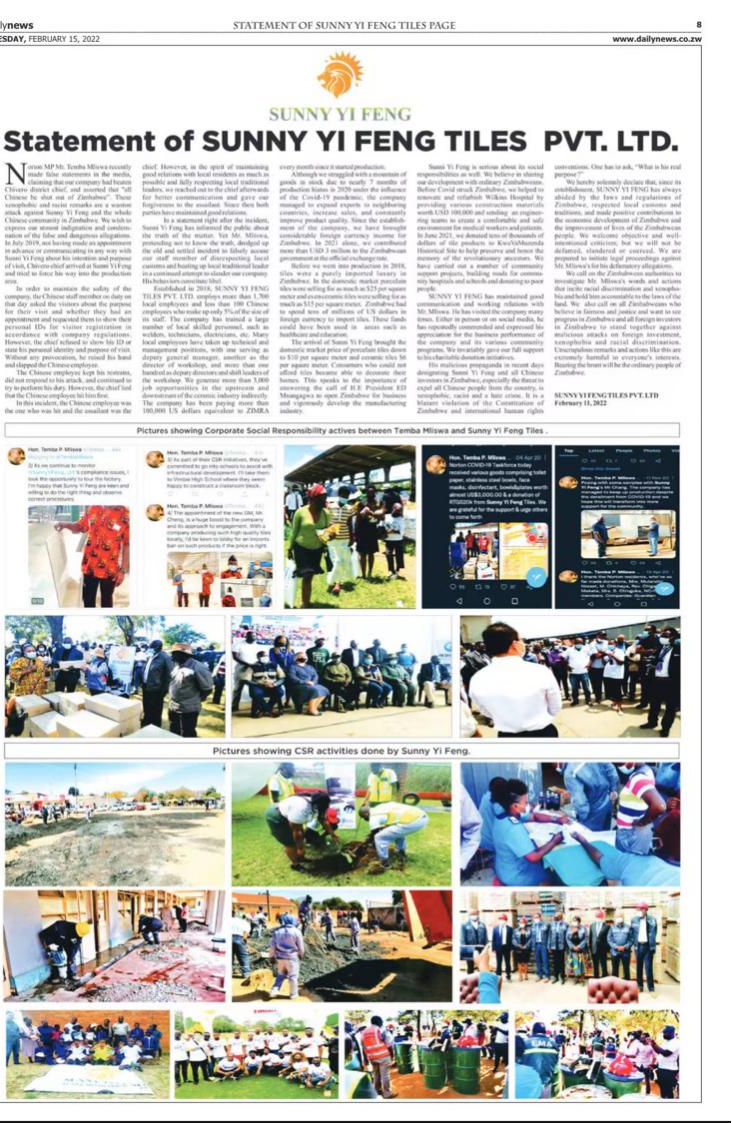 -------------------------------------------------------------------------------------------
False News 4:
The Zimbabwe Civil Society groups alleged bad business conduct of Anjin Company.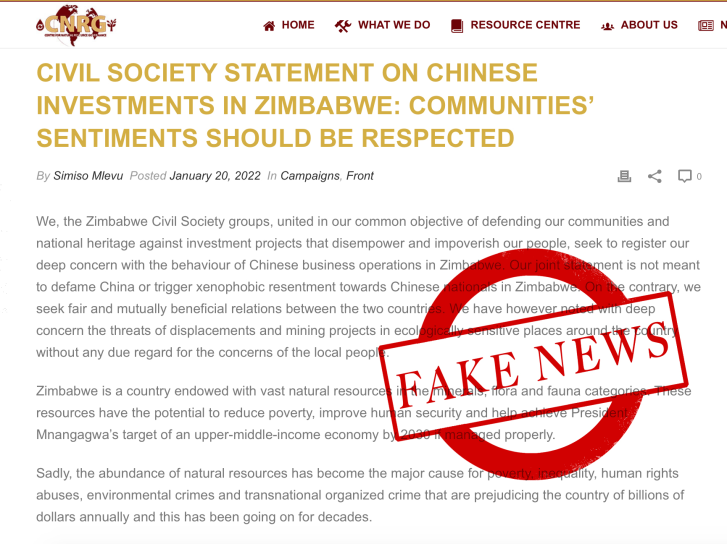 https://www.cnrgzim.org/civil-society-statement-on-chinese-investments-in-zimbabwe-communities-sentiments-should-be-respected/
The Zimbabwe Civil Society groups alleged:
1.Anjin displaced the local communities from the mining area to Arda Transau without fulfilling what it promised the people. 
2.Anjin arbitrarily dismissed workers, who are still owed to this day. 
3.Anjin did not pay anything to Treasury of the government of Zimbabwe between 2011 and 2016. 
Truth:
1.Anjin met all requirements for basic infrastructure and facilities for families it relocated and constructed houses, a primary school, a secondary school, a clinic, roads, and water reticulation system, among a host of social amenities, for the Arda Transau project, which was then handed over to the Government of Zimbabwe for further management.  
2.Anjin did not arbitrarily dismiss its former workers as alleged by the statement. It is on record that the company was required to shut down by the former Government when it ordered the consolidation of mining ventures in Marange in 2016. Upon the forced closure, the company laid off all workers because it was no longer producing. However, all terminal salaries and benefits were paid off in compliance with the laws and practice in Zimbabwe. On resumption of mining operations in 2020, the company gradually re-engaged most of the previously laid-off workers. 
3.Anjin has been consistently paying all taxes as required by Government. The company also complies with the Government's forty-percent (40%) foreign currency revenue liquidation requirement. 
Relevant Statements: